The ideal grill for crowds of up to 30 individuals is the "BIG TEXAN" Griddle, which can be powered by gas and boasts 27,000 BTUs and a 41-inch cooking surface. This grill can be used as a free-standing unit, built into an outdoor kitchen, or mounted on a cart for convenient mobility.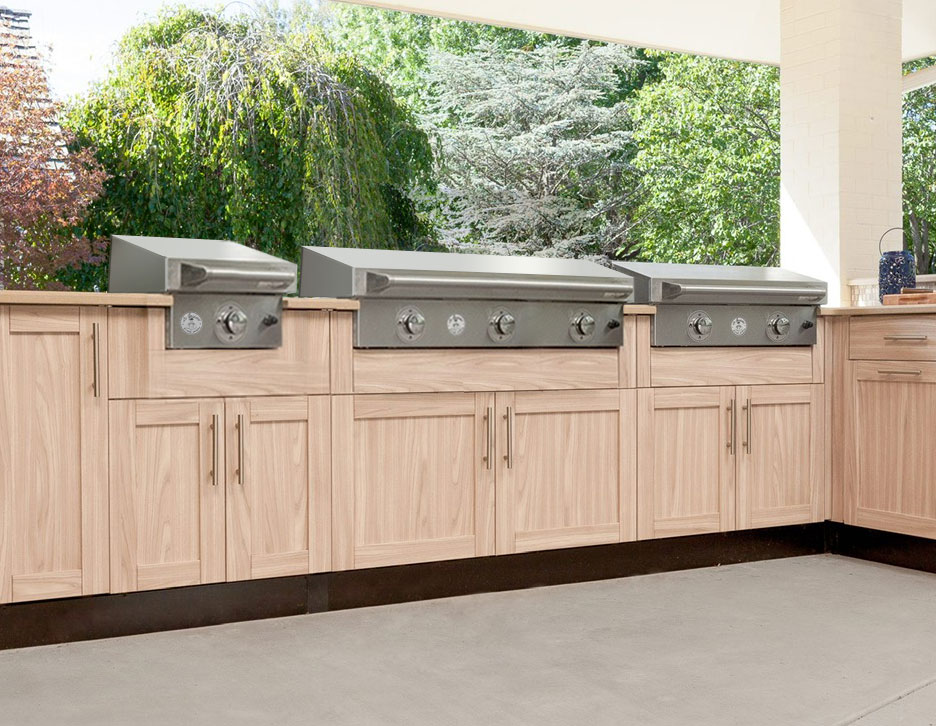 Specifications
| Specification | Built-in | Freestanding |
| --- | --- | --- |
| Model Number | GFE105 | GFE105 CK |
| Gas Type | Natural Gas or Propane Gas | Natural Gas or Propane Gas |
| Construction Material | 304 Stainless Steel | 304 Stainless Steel |
| Cooking Surface Material | 100% 304 Stainless steel | 304 Stainless Steel with Cast-Iron Base Plate |
| Total Cooking Power | 27,000 BTU's | 27,000 BTU's |
| Cooking Surface Size | 41 1/4" x 15 3/4" | 41-1/4" wide X 15-3/4" deep |
| Grease Management | Removable grease tray | Removable grease tray |
| Number of Burners | 3 U-shaped stainless steel burners | 3 Stainless U-Shape Burners |
| Griddle Type | Exclusive stainless steel with cast iron sub-plate | - |
| Even Heat Distribution | Patented griddle plate | - |
| Safety Features | Safety valve with thermocouple | Gas Valves with Safety Shut Off Thermocouples |
| Gas Conversion | Gas orifice included for gas conversion | Opposite Gas Type Orifices Included |
| Ignition System | Battery operated ignition system | Battery operated ignition system |
| Gas Fitting | 3/8" | - |
| Cart | N/A | 304 Stainless Steel Freestanding Cart (Included) |
| Side Shelves | N/A | Dual Fold-Down Side Shelves |
| Casters | N/A | 4 Swivel Wheel Casters, 2 Locking |
| Made in | France | France |
| Cut Out Dimensions | 40-1/2" wide X 16-3/4" deep X 5-3/4" high | - |
About Le Griddle
Le Griddle is a leading company that specializes in producing high-quality griddles for outdoor cooking enthusiasts. The company was founded in France in 1976 and has since expanded to become a global leader in the griddle market.
Le Griddle's products are renowned for their high-performance and durability, which is achieved through the use of premium materials such as 304 stainless steel and a unique patented technology. This technology ensures that Le Griddle's products are able to withstand extreme temperatures and provide consistent, even heating across the cooking surface.
In addition to their superior quality, Le Griddle's products are also designed with convenience in mind. Their griddles are easy to clean, and many models come equipped with features such as removable grease trays and built-in temperature gauges.
Le Griddle's commitment to excellence extends beyond their products, as they also prioritize customer satisfaction and sustainability. They offer exceptional customer service and support, and they are dedicated to minimizing their environmental impact through responsible sourcing and manufacturing practices.
Whether you're a professional chef or a backyard cooking enthusiast, Le Griddle's products are a great choice for those who value quality, convenience, and sustainability. With their exceptional performance and durability, it's no wonder that Le Griddle has become a trusted name in the griddle market.
Warranty
Lifetime against perforation of stainless steel
5 years for burners (Gas) 
1 year parts
The warranty starts from the date of purchase. We take great care to ensure that each of our appliances reaches the user in perfect operating condition. If you do find a problem when unpacking your appliance, please report it to the retailer within 48 hours. If you notice that the appliance is not working properly during the warranty period, please contact or email us.
The following are not covered by the warranty: 
Normal wear of the product that does not affect operation of the appliance (scratches, impacts, change of color, etc.).
The presence of rust, cracks, or other deformation of cast iron radiators, not detrimental of Griddle utilization.
Damage caused by abnormal events or use, modification of the product or not following the instructions for use (in particular, the use of chlorine-based cleaning products).
Damage resulting from professional, industrial or collective use.
Damage resulting from a fall or impact.
Return Policy
Exchanges and returns are accepted within 30 days of the shipment with a prior RMA (Return Material Authorization). Please contact us for the RMA number prior to shipping back any products.
Customer is responsible for all return freight charges, unless the error is on our part. All returned goods must be in new condition and in original cartons and be well packed. Items cannot have been installed nor been used. All shipping (to and from) costs are deducted from the refund.